Music:
ENNIO MORRICONE-The Green Leaves of Summer

i thank You God for most this amazing day
E.E. cummings

i thank You God for most this amazing
day:for the leaping greenly spirits of trees
and a blue true dream of sky; and for everything
which is natural which is infinite which is yes

(i who have died am alive again today,
and this is the sun's birthday; this is the birth
day of life and of love and wings: and of the gay
great happening illimitably earth)

how should tasting touching hearing seeing
breathing any–lifted from the no
of all nothing–human merely being
doubt unimaginable You?

(now the ears of my ears awake and
now the eyes of my eyes are opened)

Out in the Fields with God
Elizabeth Barrett Browning

The little cares that fretted me,
I lost them yesterday
Among the fields above the sea,
Among the winds that play,
Among the lowing of the herds,
The rustling of the trees,
Among the singing of the birds,
The humming of the bees.


The fears of what may come to pass,
I cast them all away
Among the clover-scented grass,
Among the new mown hay,
Among the rustling of the corn,
Where drowsy poppies nod,
Where ill thoughts die and good are born,
Out in the fields with God.

I Wandered Lonely As A Cloud
William Wordsworth

I WANDERED lonely as a cloud
That floats on high o'er vales and hills,
When all at once I saw a crowd,
A host, of golden daffodils;
Beside the lake, beneath the trees,
Fluttering and dancing in the breeze.


Continuous as the stars that shine
And twinkle on the milky way,
They stretched in never-ending line
Along the margin of a bay:
Ten thousand saw I at a glance,
Tossing their heads in sprightly dance.


The waves beside them danced; but they
Out-did the sparkling waves in glee:
A poet could not but be gay,
In such a jocund company:
I gazed–and gazed–but little thought
What wealth the show to me had brought:


For oft, when on my couch I lie
In vacant or in pensive mood,
They flash upon that inward eye
Which is the bliss of solitude;
And then my heart with pleasure fills,
And dances with the daffodils.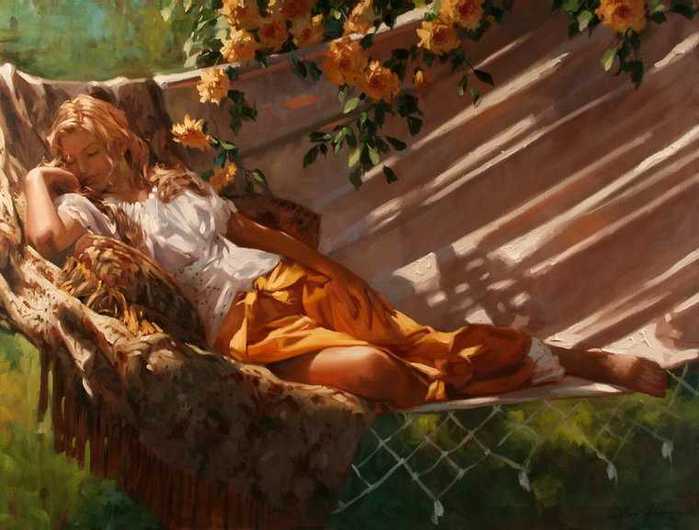 Richard Johnson Art


To Nature
Samuel Taylor Coleridge


It may indeed be phantasy, when I
Essay to draw from all created things
Deep, heartfelt, inward joy that closely clings ;
And trace in leaves and flowers that round me lie
Lessons of love and earnest piety.


So let it be ; and if the wide world rings
In mock of this belief, it brings
Nor fear, nor grief, nor vain perplexity.
So will I build my altar in the fields,
And the blue sky my fretted dome shall be,


And the sweet fragrance that the wild flower yields
Shall be the incense I will yield to Thee,
Thee only God ! and thou shalt not despise
Even me, the priest of this poor sacrifice


Zatzka Hans Art


ROSES
George Eliot


You love the roses - so do I. I wish
The sky would rain down roses, as they rain
From off the shaken bush. Why will it not?
Then all the valley would be pink and white
And soft to tread on. They would fall as light
As feathers, smelling sweet; and it would be
Like sleeping and like waking, all at once!