Music
Tango Evora-Loreena McKennitt

Honor To Woman
Friedrich Schiller
Translated From the German by Marianna Wertz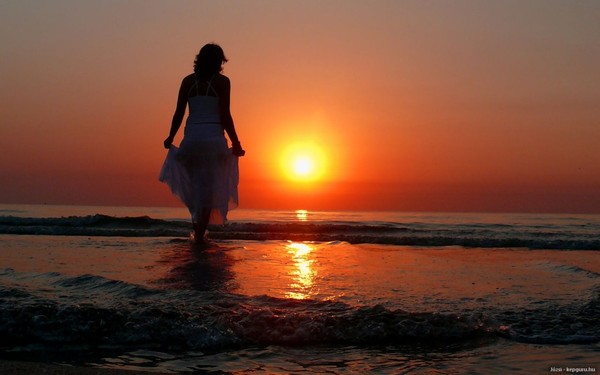 Honor the women! They're roses celestial
Twining and weaving in lives terrestrial,
Weaving the bond of the most blessed love,
Veiled in the Graces' most modest attire
Nourish they watchful the e'erlasting fire
Of lovely feelings with hand from above.

To truth's limits ever endless
Man with wild force doth flee,
Thoughts do drive him ever restless
Onto passion's stormy sea.
Greedy grasps he the eternal,
Silent will his heart be ne'er,
Restless through the stars supernal
Hunts he his dream's image e'er.


But with their glances so magic'ly chaining,
Beckon the women the fug'tive restraining,
Warning him back in their presence anew.
In the mother's most moderate quarters
They have remained yet with modesty's manners,
Nature's daughters, with piety true.

Hostile e'er the man is striving,
With a crushing force doth roam,
Wildly through his life surviving,
Without rest and without home.
What he builds, he ruins later,
Never rests the wishes' strife,
Never, as the head of Hydra
Falls and e'er renews its life.


But they, contented with quieter honor,
Pluck now the women the moment's fine flower,
Nourish it loving and diligently,
They have in their bounded work greater freedom,
Richer than man, too, in districts of wisdom
And in the unending sphere, poetry.

Stern and proudly self-depending,
Knoweth man's cool breast thereof,
Heartily to heart though bending,
Not the godly joy of love,
Knows he naught of souls exchanging,
Not in tears melts he e'er hence,
Steels he in life's battles raging
Harder yet his hardened sense.


But, just as softly from zephyr doth shiver,
Quick as Aeolian harp-string doth quiver,
Thus so the feeling-full woman's soul, too.
Image of pain makes her tenderly fearful,
Heaves then the e'er-loving bosom, and tearful,
Beaming the eyes are from heavenly dew.

In the realm where men are ruling
Might defiant right doth have,
With his sword the Scyth'an's proving
And the Persian will enslave.
War be they in fury waging,
The desires both wild and rude,
Eris' voice is hoarsely raging,
Governing, where Charis fled.


But now, so softly, persuasively pleading,
Women with scepter of morals are leading,
Smother they discord, all raging enlight,
Teach they the powers, that hateful develop,
Each in a more loving form to envelop,
And what forever would flee, they unite.


THE ORIGINAL POEM IN GERMAN

Würde der Frauen
Friedrich Schiller

Ehret die Frauen! sie flechten and weben
Himmlische Rosen ins irdische Leben,
Flechten der Liebe beglückendes Band,
Und in der Grazie züchtigem Schleier
Nähren sie wachsam das ewige Feuer
Schöner Gefühle mit heiliger Hand.

Ewig aus der Wahrheit Schranken
Schweift des Mannes wilde Kraft,
Unstet treiben die Gedanken
Auf dem Meer der Leidenschaft.
Gierig greift er in die Ferne,
Nimmer wird sein Herz gestillt,
Rastlos durch entlegne Sterne
Jagt er seines Traumes Bild.


Aber mit zauberisch fesselndem Blicke
Winken die Frauen den Flüchtling zurücke,
Warnend zurück in der Gegenwart Spur.
In der Mutter bescheidener Hütte
Sind sie geblieben mit schamhafter Sitte,
Treue Töchter der frommen Natur.

Feindlich ist des Mannes Streben,
Mit Zermalmender Gewalt
Geht der wilde durch das Leben,
Ohne Rast und Aufenthalt.
Was er schuf, zerstört er wieder,
Nimmer ruht der Wünsche Streit,
Nimmer, wie das Haupt der Hyder
Ewig fällt und sich erneut.


Aber, zufrieden mit stillerem Ruhme,
Brechen die Frauen des Augenblicks Blume,
Nähren sie sorgsam mit liebendem Fleiß,
Freier in ihrem gebundenen Wirken,
Reicher als er in des Wissens Bezirken
Und in der Dichtung unendlichem Kreis.

Streng und stolz sich selbst genügend,
Kennt des Mannes kalte Brust,
Herzlich an ein Herz sich schmiegend,
Nicht der Liebe Götterlust,
Kennet nicht den Tausch der Seelen,
Nicht in Tränen schmilzt er hin,
Selbst des Lebens Kämpfe stählen
Härter seinen harten Sinn.


Aber, wie leise vom Zephir ershüttert
Schnell die äolische Harfe erzittert,
Also die fühlende Seele der Frau.
Zärtlich geängstigt vom Bilde der Qualen,
Wallet der liebende Busen, es strahlen
Perlend die Augen von himmlischem Tau.

In der Männer Herrschgebiete
Gilt der Stärke trotzig Recht,
Mit dem Schwert beweist der Scythe,
Und der Perser wird zum Knecht.
Es befehden sich im Grimme
Die Begierden wild und roh,
Und der Eris rauhe Stimme
Waltet, wo die Charis floh.


Aber mit sanft überredender Bitte
Führen die Frauen den Zepter der Sitte,
Löschen die Zwietracht, die tobend entglüht,
Lehren die Kräfte, die feindlich sich hassen,
Sich in der lieblichen Form zu umfassen,
Und vereinen, was ewig sich flieht.