Music: Giovanni Marradi-Just for you


Karezoid Michal Karcz Photogarphy


Ya Tair (O bird)Lyrics
Fayrouz


O bird flying
on the tip of the world
If you would only tell
the beloved about me
O bird.


Go ask the one who is alone
and wounded, all remedies of no avail
pained and not telling
what pains him
and in his memory recur
nights of childhood.


O bird who carries
the color of trees
in which there's nothing but boredom
and waiting
with the sun's eye I wait
on coldness of stone
the hands of reparation shake me
and I am troubled.


I beseech you by your teachers
which are equal to my days
I beseech by the thorn-rose and the wind
if you are going toward those
whom I love
and were love to erupt again
take me even for one minute
and return me.

Sonnet XVII
Pablo Neruda

I do not love you as if you were salt-rose, or topaz,
or the arrow of carnations the fire shoots off.
I love you as certain dark things are to be loved,
in secret, between the shadow and the soul.


I love you as the plant that never blooms
but carries in itself the light of hidden flowers;
thanks to your love a certain solid fragrance,
risen from the earth, lives darkly in my body.


I love you without knowing how, or when, or from where.
I love you straightforwardly, without complexities or pride;
so I love you because I know no other way


than this: where I does not exist, nor you,
so close that your hand on my chest is my hand,
so close that your eyes close as I fall asleep.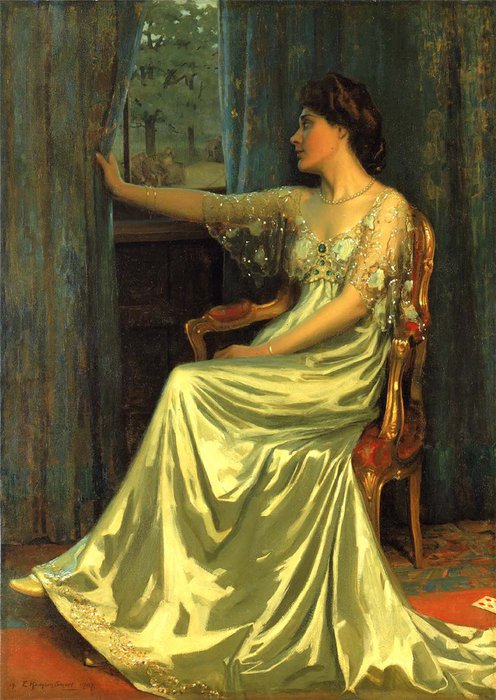 Edmund Hodgson Smart Art


Love Is Enough
William Morris
(1834-1896)


Love is enough: though the World be a-waning,
And the woods have no voice but the voice of complaining,
Though the sky be too dark for dim eyes to discover
The gold-cups and daisies fair blooming thereunder,


Though the hills be held shadows,and the sea a dark wonder
And this day draw a veil over all deeds pass'd over,
Yet their hands shall not tremble, their feet shall not falter;
The void shall not weary, the fear shall not alter
These lips and these eyes of the loved and the lover.

Because She Would Ask Me Why I Loved Her
Christpoher Brennan

If questioning would make us wise
No eyes would ever gaze in eyes;
If all our tale were told in speech
No mouths would wander each to each.


Were spirits free from mortal mesh
And love not bound in hearts of flesh
No aching breasts would yearn to meet
And find their ecstasy complete.


For who is there that lives and knows
The secret powers by which he grows?
Were knowledge all, what were our need
To thrill and faint and sweetly bleed?


Then seek not, sweet, the 'If' and 'Why'
I love you now until I die.
For I must love because I live
And life in me is what you give.