Music
Yiruma-Autumn Scene




I Feel You as Soft Touches
Neva Flores

I want to see the thoughts
you breathe,
hear your words and collect them,
cradled in your honesty.
I could watch the beauty in your eyes
for eternity
without ever wishing
to walk away.


You give me your hand
and I close my eyes,
hear the whisper of the sea
and I remember how my heart
has searched for one
such as you
knowing I have found my home.


My love,
the world could dance
on the shells of their falsehood
with words
written in beautiful calligraphy
and your words
would continue to run in my veins
like Morse code
tapping out who I am
to me.


You fill my hope chest with your spirit
lifting my head
from the table of where my mind wanders
when I forget
to stop and smell the roses along the way.
Your words
bring precious harmony
into play.


I look through the window of my heart
where you
have pressed your lips
on a photograph of your words
and I feel you as soft touches
on my soul.
I collect them one by one
to remember,
until you again I hold.


Rob Hefferan Art


Seconds Within Your Light
Neva Flores


Coming through the night I feel strange seconds
within a familiar light.
Here is where my imagination led me to think
no one heard my plight.


Still I smiled in wonder, though the darkness
seemed stronger every second.
Because I yearned to hear your words,
know my life was in your presence.


I bade farewell to the night , closed my eyes
let those seconds pass right by.
As that familiar light that came inside,
kept your face within my sight.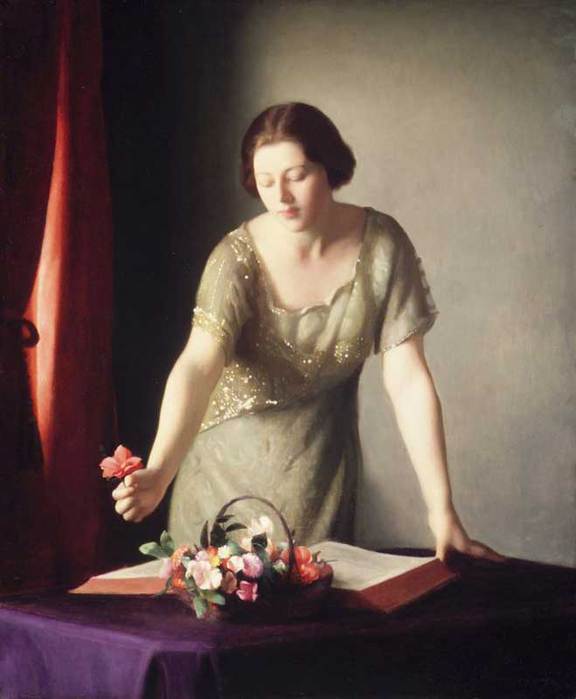 William Paxton art


Helas!
Oscar Wilde


To drift with every passion till my soul
Is a stringed lute on which all winds can play,
Is it for this that I have given away
Mine ancient wisdom, and austere control?
Methinks my life is a twice-written scroll
Scrawled over on some boyish holiday
With idle songs for pipe and virelay,


Which do but mar the secret of the whole.
Surely there was a time I might have trod
The sunlit heights, and from life's dissonance
Struck one clear chord to reach the ears of God:
Is that time dead? lo! with a little rod
I did but touch the honey of romance —
And must I lose a soul's inheritance?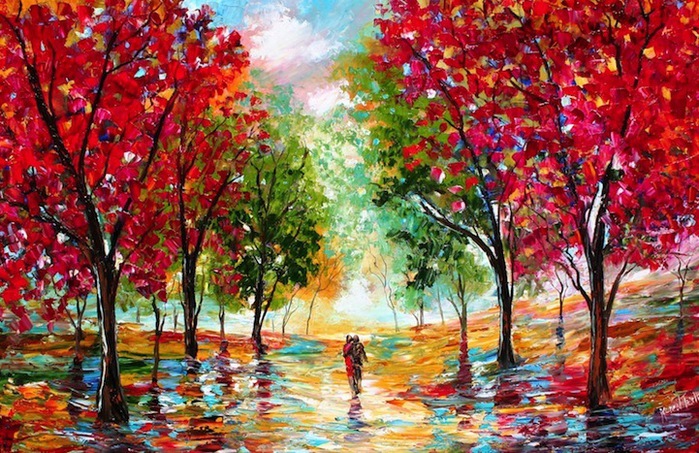 Karen Tarlton Art


Sonnet 116
William Shakespeare


Let me not to the marriage of true minds
Admit impediments. Love is not love
Which alters when it alteration finds,
Or bends with the remover to remove:
O no! it is an ever-fixed mark
That looks on tempests and is never shaken;
It is the star to every wandering bark,
Whose worth's unknown, although his height be taken.


Love's not Time's fool, though rosy lips and cheeks
Within his bending sickle's compass come:
Love alters not with his brief hours and weeks,
But bears it out even to the edge of doom.
If this be error and upon me proved,
I never writ, nor no man ever loved.

Our union is like this
Hafiz

Our union is like this: You feel cold, so I reach for a blanket to cover our shivering feet.

A hunger comes into your body, so I run to my garden and start digging potatoes.


You asked for a few words of comfort and guidance, and I quickly kneel by your side offering you a whole book as a gift.

You ache with loneliness one night so much you weep, and I say here is a rope, tie it around me, I will be your companion for life.