Music:
Joshua Bell performing Meditation de Thais
composed by Jules Massenet.

On spirituality
Henri J.M. Nouwen

Aren't you, like me, hoping that some person, thing, or event will come along to give you that final feeling of inner well-being you desire? Don't you often hope: 'May this book, idea, course, trip, job, country or relationship fulfill my deepest desire.

But as long as you are waiting for that mysterious moment you will go on running helter-skelter, always anxious and restless, always lustful and angry, never fully satisfied. You know that this is the compulsiveness that keeps us going and busy, but at the same time makes us wonder whether we are getting anywhere in the long run.

This is the way to spiritual exhaustion and burn-out.
Henri J.M. Nouwen, Life of the Beloved:
Spiritual Living in a Secular World


To live a spiritual life we must first find the courage to enter into the desert of our loneliness and to change it by gentle and persistent efforts into a garden of solitude. The movement from loneliness to solitude, however, is the beginning of any spiritual life because it it is the movement from the restless senses to the restful spirit,l from the outward-reaching cravings to the inward-reaching search, from the fearful clinging to the fearless play.
Henri J.M. Nouwen, Reaching Out


I kept running around it in large or small circles, always looking for someone or something able to convince me of my Belovedness.

Self-rejection is the greatest enemy of the spiritual life because it contradicts the sacred voice that calls us the "Beloved". Being the Beloved expresses the core truth of our existence.

the real "work" of prayer is to become silent and listen to the voice that says good things about me. To gently push aside and silence the many voices that question my goodness and to trust that I will hear the voice of blessing-- that demands real effort.
Henri J.M. Nouwen, Life of the Beloved:
Spiritual Living in a Secular World


I have found it very important in my own life to try to let go of my wishes and instead to live in hope. I am finding that when I choose to let go of my sometimes petty and superficial wishes and trust that my life is precious and meaningful in the eyes of God something really new, something beyond my own expectations begins to happen for me.
Henri J.M.Nouwen,Finding My Way Home:
Pathways to Life and the Spirit.

On Friendship
Henri J.M. Nouwen

There is a twilight zone in our hearts that we ourselves cannot see. Even when we know quite a lot about ourselves-our gifts and weaknesses, our ambitions and aspirations, our motives and our drives-large parts of ourselves remain in the shadow of consciousness. This is a very good thing.

We will always remain partially hidden to ourselves. Other people, especially those who love us, can often see our twilight zones better than we ourselves can. The way we are seen and understood by others is different from the way we see and understand ourselves.

We will never fully know the significance of our presence in the lives of our friends. That's a grace, a grace that calls us not only to humility, but to a deep trust in those who love us. It is the twilight zones of our hearts where true friendships are born.


Distance never seperates two hearts that really care, for our memories span the miles and in seconds we are there. But whenever I start feeling sad cuz I miss you I remind myself how lucky I am to have someone so special to miss.

We need to be angels for each other, to give each other strength and consolation. Because only when we fully realize that the cup of life is not only a cup of sorrow but also a cup of joy will we be able to drink it.


What makes us human is not our mind but our heart, not our ability to think but our ability to love.

Our humanity comes to its fullest bloom in giving. We become beautiful people when we give whatever we can give: a smile, a handshake, a kiss, an embrace, a word of love, a present, a part of our life...all of our life.
Henri J.M. Nouwen, Life of the Beloved:
Spiritual Living in a Secular World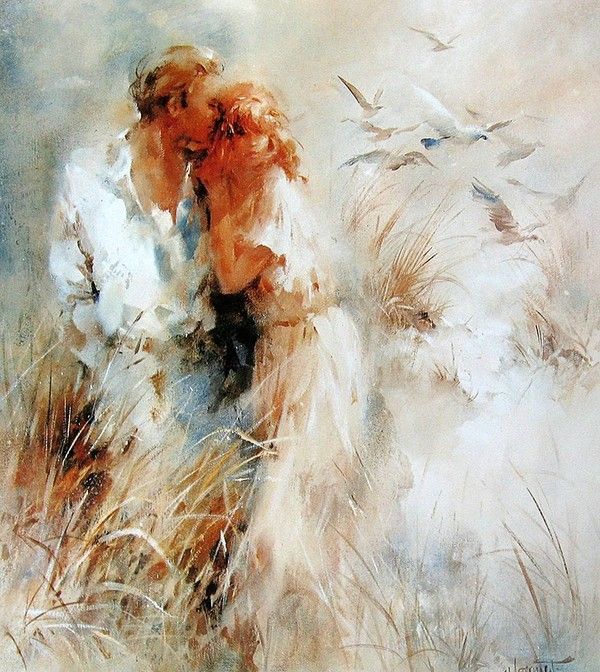 Willem Haenraets Art


On love
Henri J.M. Nouwen


Every time we make the decision to love someone, we open ourselves to great suffering, because those we most love cause us not only great joy but also great pain. The greatest pain comes from leaving. When the child leaves home, when the husband or wife leaves for a long period of time or for good, when the beloved friend departs to another country or dies … the pain of the leaving can tear us apart.


Still, if we want to avoid the suffering of leaving, we will never experience the joy of loving. And love is stronger than fear, life stronger than death, hope stronger than despair. We have to trust that the risk of loving is always worth taking.


Forgiveness is the name of love practiced among people who love poorly. The hard truth is that all people love poorly. We need to forgive and be forgiven every day, every hour increasingly. That is the great work of love among the fellowship of the weak that is the human family.